It's been a while since my last blog post, but it's been a busy time for me lately.  We are in the middle of building a new house but I'm also thrilled to announce that I'm over 100 days into my own First 1000 Days experience!  So the pressure is on to get the house finished in time for the new arrival in October!  I'm really enjoying my pregnancy now that the exhaustion and queasy-ness of the first 12 weeks has passed.  I also went through a few weeks of being incredibly hungry all the time, and I found the First 1000 Days website really useful for snack and meal ideas.
I'm always getting requests for more easy recipes for the blog, with one friend in particular asking for an easy lasagne recipe.  Most people love lasagne and it's perfect if you are feeding a crowd.  But it can be daunting with many steps involved, not to mention all the pots and pans.  So I've come up with a cheat's recipe which incorporates a portion of spinach too – such a nutritious vegetable with lots of folic acid in particular, which is very important in the first trimester of pregnancy and even before conception.
I've used a jar of bolognese sauce here rather than making it from scratch.  I have no qualms about using these jars as the ingredients list is usually short, with ingredients you'd expect like tomatoes, onions and herbs.  So don't feel guilty for opening that jar!
The real cheat in this recipe, however, is the white sauce.  It's made from ricotta cheese which you'll find in the cheese section of the supermarket in a round tub.
Cheat's lasagne
Makes 6 portions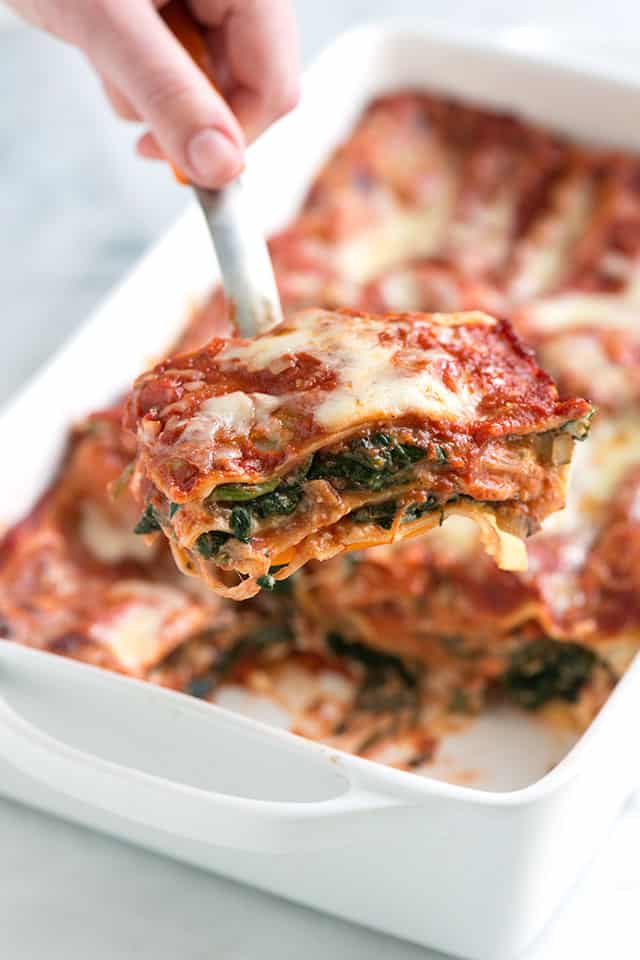 Equipment
1 large saucepan
1 chopping board
1 sharp knife
1 medium-sized bowl
1 colander
1 grater
1 rectangular ovenproof dish
1 fork
Ingredients
500g lean minced beef
500g bolognese tomato sauce
250g tub ricotta
1 medium onion, chopped
1 red pepper, chopped
200g bag baby spinach leaves
1 egg
1 pack lasagne sheets (you won't need them all but they will keep for a long time to use again)
50g reduced-fat cheddar, grated
Method
First, get the meat sauce underway.  Place the minced beef in the saucepan and fry over a medium heat for 5-10 minutes until it starts to brown.  You don't need any oil in the pan to do this.  If the meat gives off a lot of liquid, you should drain this off.
Now add the chopped onion and pepper and mix well. Pour in the bolognese sauce, turn down to a low heat and allow to simmer for 15-20 minutes.
Meanwhile, you can prepare the white sauce. Half fill your kettle with water and put it on to boil.  Place the spinach leaves in the colander.  When the kettle has boiled, pour the water over the spinach leaves and leave to cool for a few minutes.  Then squeeze out as much of the water as you can from the spinach leaves.
Place the drained spinach leaves on the chopping board and roughly chop them. It will seem like there isn't much spinach but don't worry, it will be OK!
In a bowl, mix together the ricotta, chopped spinch and egg. Mix well until everything is incorporated.
Preheat the oven to 180oC before assembling the lasagne.
Now place half of the meat sauce in the bottom of the ovenproof dish and spread evenly. Cover this with a layer of lasagne sheets.  Then spread over half of the ricotta & spinach sauce.
Repeat this step so there are two layers of everything in the dish. Top the final layer of ricotta & spinach sauce with the cream cheese.
Place the dish in the oven and bake for 30-40 minutes, until the cheese has melted and the top is golden brown.
Serve with salad. You can also serve with baby potatoes or jacket potatoes for a more substantial meal.
Nutritional information per serving (without accompaniments): 216 calories, 12.8g fat, 6g saturates, 4.4g sugars, 19.7g protein, 1.1g salt.
High in Vitamin C, Folic acid, Beta carotene
Source of Iron